Macmillan Education Eswatini continues to be the wind beneath the wings of the education sector. The company has pioneered several initiatives focusing on improving education in Eswatini.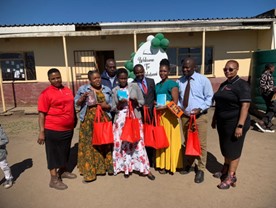 Recently, we have since embarked on a mission to support grassroots education at the kindergarten level. Our Sales and Marketing team attended a Spelling Bee Competition, which was held at Enhlabeni Pre-School in one of the country's four regions, Lubombo. This kind gesture comes from the company's continuous zeal to support Early Childhood Education.
The company was invited to motivate learners about the importance of education and emphasise the same to the parents and community members. Events like this have created an excellent opportunity for us to market our Pre-School material and encourage parents to buy the books through the bookshops. Through these engagements, we are having direct contact with the market, mainly because we have a lot of preschool materials.